Current Vacancies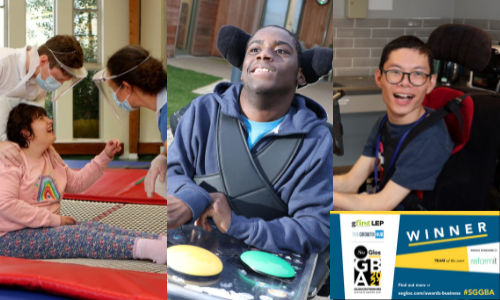 Are you interested in finding out more about the wide range of roles and career opportunities on offer at National Star? We have a range of flexible part-time, full-time and term-time only positions on offer not only for people with past experience of working with young people with disabilities in the care or education sector, but for people keen to explore new career opportunities. With full training provided for all of our roles now is a great time to join our team.
Almost 1 in 10 of our staff have a declared disability and we are proud to have achieved Disability Confident employer status.
Virtual Staff Recruitment Open Day
Date: 17 February 2022 @ 4:00 pm - 6:00 pm
Location: Online,
Join our virtual open day for an informal chat about what it is like to work at National Star, to explore our current vacancies and to learn more about our excellent staff benefits and long-term career opportunities. We can help you to apply for any current roles or show you how to sign up for future job alerts if there isn't anything for you immediately.
If you are interested in attending this event registration is essential
Click here to register for the open day
Sign up for job alerts
Sign up to be sent an email alert when a job suitable to your skills, experience and/or location is advertised.
If you've started your application and would like to return to it later (or have forgotten your password) click here to visit your profile
Care & Support Worker - Facilitator
Salary:

£10.50- £10.92 per hour (£13.13 - £13.65 weekend hours) from January 2022

Hours:

Full and Part time hours available

Contract:

All year post

Location:

Cheltenham, Gloucester, Ullenwood

Closing Date:

31/01/2022
Care and Support Worker
Salary:

£10.50- £10.92 per hour (£13.13 - £13.65 weekend hours)

Hours:

37 hours 52 weeks

Contract:

All year post

Location:

Cheltenham

Closing Date:

01/03/2022
Care and Support Worker (Facilitator) - Bank
Salary:

£12.75 per hour (£14.66 per hour for weekends)

Hours:

Zero hours contract

Contract:

All year post

Location:

Gloucester, Mamhilad, Wales, Ullenwood, Hereford, Malvern, Cheltenham

Closing Date:

31/01/2022
Catering Assistant - Part Time
Salary:

£9.45 p/hr

Hours:

up to 40 hrs/week 52 weeks

Contract:

Term-time and All year posts available

Location:

Ullenwood

Closing Date:

30/01/2022
Catering Assistant (Bank)
Salary:

£9.45 per hour

Hours:

Bank - as required , 52 weeks

Contract:

Bank

Location:

Cheltenham, Gloucester, Ullenwood

Closing Date:

27/02/2022
Deputy Manager - Student Admissions and Transitions INTERNAL VACANCY
Salary:

Circa £23.5K

Hours:

40hrs weekly, 44 weeks per year

Contract:

Term-time only

Location:

Ullenwood

Closing Date:

02/02/2022
Housekeeper / Cleaner
Salary:

£9.45 per hour

Hours:

37 hours / week 52 weeks / year

Contract:

All year post

Location:

Ullenwood

Closing Date:

27/01/2022
Online Sales Assistant - Kickstart Scheme only
Salary:

National Minimum Wage

Hours:

25 hrs per week

Contract:

All year post

Location:

Cheltenham

Closing Date:

11/02/2022
Recruitment Manager
Salary:

up to £40,000

Hours:

37 hours per week / 52 weeks per year

Contract:

All year post

Location:

Ullenwood

Closing Date:

04/02/2022
Registered Nurse (Day)
Salary:

£33,591.60 - £36,177.31 (+10% for hours worked at weekends)

Hours:

37 hrs / 52 wks

Contract:

All year post

Location:

Cheltenham, Ullenwood

Closing Date:

31/01/2022
Registered Nurse (Long term living)
Salary:

FTE £33,591.92 - £36,176.31 (£17.45 - £18.80 per hour) from January 2022 (+10% for weekend hours)

Hours:

22 hrs / 52 weeks (days) : 24 hrs / 52 weeks (nights)

Contract:

All year post

Location:

Gloucester

Closing Date:

31/01/2022
Registered Nurse (Night)
Salary:

£36,950 -£39,796 FTE (+10% for hours worked at weekends)

Hours:

30hrs / week 52 weeks per year

Contract:

All year post

Location:

Ullenwood

Closing Date:

31/01/2022
Registered Nurse (Nights)
Salary:

£36,950.55 - £39,796.05 FTE ( £19.20 - £20.67 per hour) from January 2022 plus 10% for weekend hours

Hours:

24 hrs per week, 52 weeks

Contract:

All year post

Location:

Gloucester

Closing Date:

31/01/2022
Retail Assistant - Kickstart Scheme only
Salary:

National Minimum Wage

Hours:

25 hours per week

Contract:

All year post

Location:

Cheltenham

Closing Date:

11/02/2022